← A fine spring mix indeed
A couple of nice additions for the summer →
NXP it is, this month
It was a slow month with a silver lining: NXP announced a full new portfolio of Cortex-M33 based devices spanning 4 series from ultra low power to top of the line MCUs with the capability to perform AI at the edge. Alas, there were no mentions of price, products and availability. All in due time, it seems…
Dialog
Dialog got acquired by Renesas last year, and surprise, this month, the site is now redirected to Renesas.
So long Dialog-Semiconductor, we will see you now on https://www.renesas.com.
Infineon
Infineon released a few variants of existing products in the PSoC6 family, mostlty to add QFN packages.
As a reminder, Infineon has now completed the integration of the Cypress parts and website.
Here is the summary:
PSoC™ 4
Low power and integration for Industrial and Consumer applications (Cortex-M0/M0+)
This is the workhorse and features a wide array of peripherals including analog sensor integration, capactitive touch, and wireless connectivity, some of which can be software configured through a drag and drop user interface: Capacitive Sensing, Programmable Analog Blocks, Programmable Digital Blocks and Wired and Wireless Connectivity.
PSoC™ 4
Purpose-built for the IoT (Cortex-M4+ + Cortex-M0+)
The PSoC™ 6 family focuses on low power and the highest level of security (as defined by the ARM Platform Security Architecture) with the flexibility to run complex algorithms on the Cortex-M4 while keeping the power consumption low with the COrtex-M0+.
XMC™ 1000/4000
One MCU Platform, Countless solutions
The family is dedicated to applications in the segments of power conversion, factory and building automation, transportation, and home appliances. XMC1000 bring together the Arm® Cortex®-M0 core and market-proven and differentiating peripherals in a leading-edge 65 nm manufacturing process. XMC4000 are powered by Arm® Cortex®-M4 with a built-in DSP instruction set.
In the process, the following families have been put on the chopping block (under the legacy category):
FM0+ Cortex M0+, 40 MHz, up to 40kB Flash
FM3 Cortex M3, 144 MHz, up to 1.5MB Flash
FM4 Cortex M4+,200 MHz, up to 2MB Flash
The PSoC5 (Cortex-M3, 80MHz, up to 256kB Flash) and PSoC Analog Coprocessor are barely making it under the PSoC family, but not advertized on the main page.
Microchip
There were about 80 new parts with the PIC16F18 taking the lion's share. The DSPIC33 got also a few new no-lead packages (M7).
NXP
Apart from a few variants for the i.MXRT106x (package) and i.MX6x (without ethernet), NXP announced a new product portfolio, the MCX.
The message is centered on the intelligent edge: secure products that can carry complex functions close to the sensors.
NXP also touts the first instantiation of NXP's new, specialized neural processing unit (NPU) for accelerating inference at the edge.
The Cortex-M33-based portfolio seems to cover a vast array of markets and use cases. Frequencies range from 32 to 250MHz with up to 4MB/1MB of Flash/RAM. 4 series of devices use the same tools (including the company's MCUXpresso) and software foundations:
MCX N Advanced series: designed for secure, intelligent applications, with families that include an integrated EdgeLock® secure subsystem and dedicated NPU for real-time inference. This will likely be the top of the line series, with abundant peripherals and memory.
MCX A Essential series: optimized to provide critical functionality for a broad range of applications where cost constraints and time to market are key considerations. This series will likely offer a large portfolio of general-purpose devices.
MCX W Wireless series: offers low-power narrowband connectivity, including BLE. Designed to simplify adding wireless connectivity to IoT devices, its energy-efficient radio helps extend the battery life of small connected systems.There doesn't seem to be a differentiating feature, beyond the Cortex-M33 which the other NXP wireless products don't have.
MCX L Ultra-Low Power series: designed for power-critical applications. With one of the industry's lowest dynamic power consumption offerings, these devices can help extend battery life significantly compared to traditional MCUs. We will have to see when we get the power numbers…
See the portfolio below (source: NXP's website)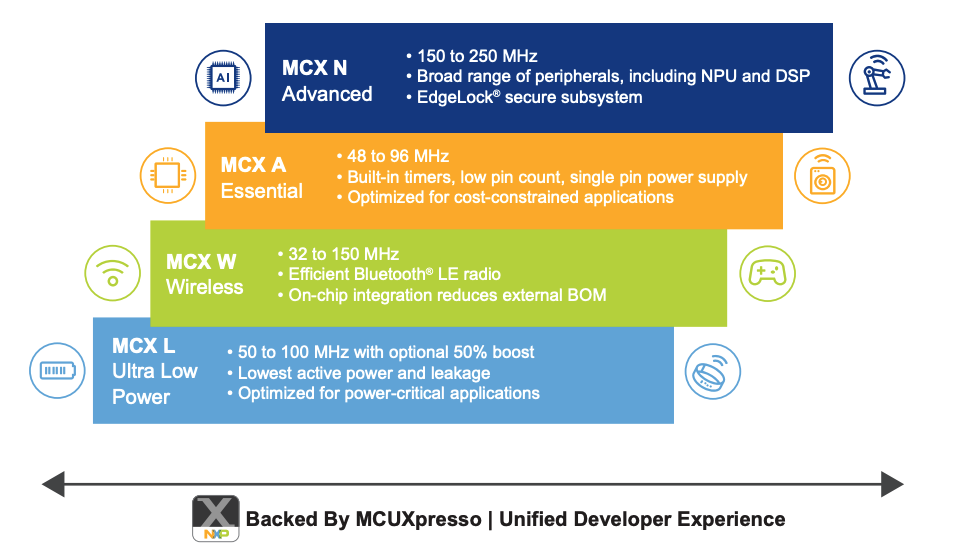 No timeline nor products have been announced yet, we will have to wait an additional few months (quarters?) to get the details.
Renesas
It was quiet at Renesas this month.
SiliconLabs
No significant change.
ST Microelectronics
ST had no significant change, for a change.
Texas Instruments
No change o the TI portfolio this month.
As a reminder… last month: TI slightly changed its nomenclature
where the MSP430 is no longer a "low power MCU", but rather a "microcontroller" and the "MCU" acronym was banned in favor or the more plainful "microcontroller" for the ARM-based and C2000 bunches. :)
Newsletter
|
Permalink
.
← A fine spring mix indeed
A couple of nice additions for the summer →
Sign up for our newsletter