← NXP it is, this month
Microchip beats it! →
A couple of nice additions for the summer
NXP launches the KS20 and KS22 to serve the CAN market while Renesas pushes 5V to the high performance RXv3-core-based RX660 MCU group. The rest of the bunch was pretty quiet during the heat of this summer. Stay cool everybody.
Infineon
Infineon had no significant changes this month.
As a reminder, last month, there was a full porfolio of wireless charger solutions based on the Cortex-M core that sprung up. These are covered by the XMC6/7/8/9. See below for the nomenclature (from Infineon's website).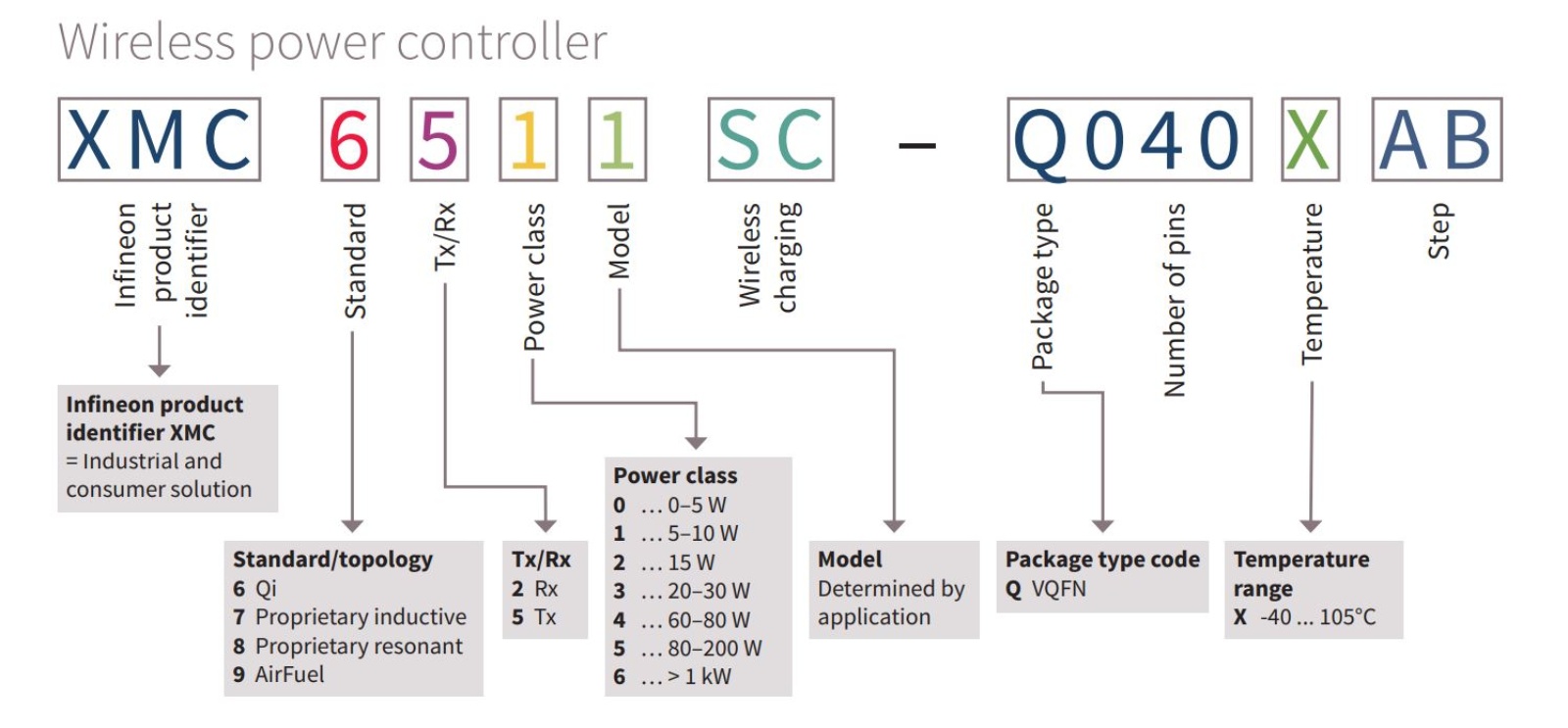 There are 9 variants available on the site now, covering all standards except Airfuel (XMC9).
Microchip
There were only 23 new parts from Microchip, with about half VAO (automotive) variants, and almost a dozen in the PIC16F180x6 family.
NXP
NXP launched the KS20 and KS22 MCUs based on a 120MHz Cortex-M4 core with FPU, offering crystal-less full-speed USB 2.0 OTG and CAN. These MCUs have 128 KB and 256 KB of flash, 64 KB SRAM as well as LQFP and QFN packages. They provide respectively 1 and 2 CAN modules. 12 parts are available.
Renesas
Renesas unveiled the RX660 Group, the first 5V-compatible products among the RX600 and RX700 high-end GP MCUs. 5V support provides better noise tolerance and hence contributes to a lower BOM cost. The RXv3 core operates at 120 MHz with no wait access to the flash memory, there are about 10% more I/Os than the 5V-compatible RX210. It is the first in the RX series to incorporate CAN FD. LFQFP packages range from 48-pin to 144-pin, with up to 1MB flash and 128KB SRAM. Overall, there were 208 additional parts:
R5F56604 for 512kB/128kB/32kB and
R5F56609 for 1024MB/128kB/32kB for respectively Code flash memory / RAM / Data flash memory capacity.
SiliconLabs
There were no significant new products at SiLabs.
ST Microelectronics
ST had 9 new devices, but mostly temp/package variants of existing ones.
Texas Instruments
No change.
Newsletter
|
Permalink
.
← NXP it is, this month
Microchip beats it! →
Sign up for our newsletter